Personal Injury Lawyer in Southern Maryland
Accidents are a part of life. However, not all accidents are without blame. If there's a responsible party on the other end of your suffering,  overlooking the incident will keep you from possibly obtaining the compensation that'll help with medical bills and other finances.
That's why the attorneys at Ferrante & Dill want to act as your lighthouse as you navigate the darkness of wage loss, disability, medical expenses, or loss of a loved one. If you need a Southern Maryland or Washington DC personal injury lawyer that's knowledgeable in the legal system and willing to do extensive research to assist your case, rely on us.
We'll be there for you every step of the way, never underestimating the state of your case or providing false hope, and never ceasing the fight for justice.
Expert Guidance: How a Personal Injury Attorney Strengthens Your Case
People often wonder if someone else was at fault for their injuries. Unfortunately, if another party, whether an individual or a company, was responsible for your well-being and let you down, someone else was at fault, and you should hire a personal injury attorney. Common cases include:
An accident (like a slip and fall) or wrongful death at a workplace brought on by an employer's negligence or defective equipment
Product liability where products like food, drugs, toys, clothes, or machinery are defective or don't come with ample warning and prove hazardous to users
Premises liability where one gets hurt on another's residential or commercial property, usually caused by an unkept area, property damage, or missing safety measures, including handrails for staircases and protective gates for biting dogs
Medical malpractice where doctors, nurses, and other healthcare physicians misdiagnose symptoms or fail to catch a harmful condition when they should have, as well as birthing, medication, and surgical errors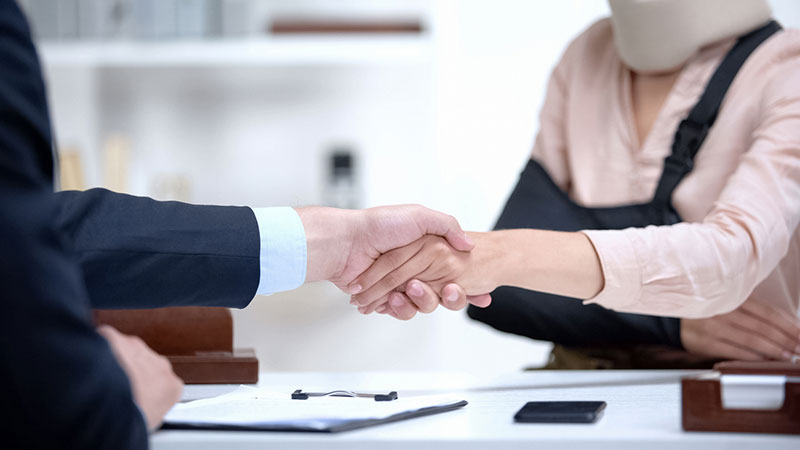 Carelessness at others' hands also includes car accidents, animal attacks, asbestos exposure, etc. However, proving this outside party was obligated to do right by you and shrugged off that responsibility is not enough for United States District Courts. We at Ferrante & Dill will assign a personal injury attorney from our law firm to examine your case closely.
The court system also wants proof of injuries and that your injuries are the effects of another's negligence. That means proving you received bodily harm that would not have come to you if you weren't at the at-fault party's location or under their care.
While the opposing party will try to make it sound like the injury was your fault, your dedicated personal injury lawyer from our firm will stand by you, trying to redirect the blame where it belongs.
How a Personal Injury Attorney Can Help You File a Lawsuit
Trying to fight a personal injury lawsuit on your own is like fighting an uphill battle. If you're not familiar with torts and legal jargon, you may lose your case, even if you were in the right. That's why an injury attorney, knowledgeable about ever-changing laws, is ideal for submitting complaints, dealing with the insurance companies, and fighting for compensation.
Damages Your Injury Lawyer May Claim for Compensation
At Ferrante & Dill, we understand compensation is more than the means of correcting an injustice done at the hands of negligence. It's necessary to help you with the following: 
Medical expenses: If harmed, whether at a construction site, workplace, hospital, or neighbor's property, compensation may pay for medical transportation, hospital visits and bills, rehab and physical therapy, in-home care, and surgery.
Lost income: Physical ailments force you to take time off from work, leaving you with lost wages and unpaid household bills. Compensation makes up for losses by paying for these bills until you're well again.
Distress: physical ailments and emotional agony from accidents are also grounds for compensation because they detract from your everyday life. Similarly, if an accident has left a spouse unable to perform their usual daily activities, you may also file a claim under loss of consortium.
Punitive damages: In the rare cases that the defendant is deliberately inflicting pain, at the root of severe damages, or has repeatedly caused damage, the plaintiff may want more than just compensation. Punitive damage means a plaintiff is either asking for more payments or defendant penalization.
What Our Team Will Do for You
The personal injury lawyers at Ferrante & Dill take each case as seriously as the next, never letting anything fall between the cracks. We'll level the playing field by gathering evidence of your ailments through medical records and of the defendant's negligence via witness interviews, police and accident reports, and photo and video evidence of the scene.
When you need empathy, resilience, and expertise in your fight for justice, count on the attorneys at Southern Maryland's Ferrante & Dill by calling 410-535-6100 today!
CONTACT US TODAY FOR MORE DETAILS