Fraudulent Personal Injury Claims
Does everyone remember that episode of the Brady Bunch when Carol gets into a minor fender bender in the parking lot of the grocery store? If not, here's a refresher on the synopsis of that episode: after the accident, the other driver, Harry Duggan, shows up to the Brady home, accusing Carol of being a bad driver (simply because she's a woman, but that's another post for another day) and handing the Brady's a list of damages to his car that he insists they fix. When the Brady's refuse to give in to Duggan's list of phony claims against them, he becomes angry and storms out of their house threatening to take them to small claims court. When the court date arrives, Duggan enters the court room, limping and in a neck brace, claiming that he can't turn his neck because of the accident. Just as the judge is about to render his verdict, Mike tosses his briefcase to the floor with a loud BANG and everyone turns to look. Everyone, including Mr. Duggan with the "immobile neck". The judge of course sees through Duggan's ruse, and renders his verdict in favor of Carol Brady.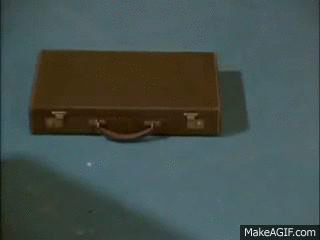 Source: MakeaGif
The scene, while hilarious, is a great way to exemplify and highlight a growing issue in the United States: people filing fraudulent personal injury claims in order to swindle money out of another person's insurance policy.
What is Personal Injury Fraud?
Personal injury insurance fraud is generally defined as any act that is intended to cause an insurance company to compensate you for damages that are non-existent, exaggerated, or unrelated to any accident covered by the policy. "Damages" can refer to damages done to your vehicle or home; it can also refer to any injuries you may incur as a result of an accident. There are two basic types of fraudulent personal injury claims:
Soft Fraud: Also referred to as "opportunistic fraud." This is the most common type of insurance fraud where the plaintiff makes up inflated claims, such as exaggerating an injury or damages to a vehicle.
Hard Fraud: Also called "premeditated fraud." Hard insurance fraud occurs when the plaintiff devises a way to make an insurance claim- such as staging car accidents, arson, or theft of a vehicle. These situations are created deliberately in an effort to make a claim against the insurance company. Insurers and police do not take these types of fraud lightly; this category of fraud often has civil and criminal penalties.
Fraudulent claims are not limited to vehicle collisions. Scammers will also fake or exaggerate slip and fall accidents, dog bites, work injuries, defective products, medical mistakes, and more.
What are the Consequences?
Like we mentioned above, some types of personal injury insurance fraud can come with civil and even criminal penalties, as well as liabilities to the insurance company.
Liability to the Insurance Company: Filing a fraudulent insurance claim can result in the insurance company taking the following actions:
Denial of award from a claim: The least severe consequence. The insurance company will not compensate you for any losses associated with the claim.
Cancellation of coverage: Fraudulent insurance claims are reported to the Maryland Insurance Administration. Insurance companies check this regularly for reports of fraudulent cases, among other things. Most coverage contracts permits the insurer to cancel a policy with no notice if the policy holder is involved in any way in a fraudulent case. Once appearing on a list as having a fraudulent claim, it is unlikely the plaintiff will ever be able to get insurance in the future.
Revocation of settlement or lawsuit award: If the plaintiff is awarded any money from the insurance company, the company can request for that money to be returned. If the plaintiff is unable to refund the money in full, the insurance company may choose to file a lawsuit against the plaintiff. In addition to suing the plaintiff for the awarded funds, the insurance company can also go after the plaintiff for costs incurred to investigate the fraudulent claim. If the actions of the plaintiff were particularly abominable, the insurance company can also recover punitive damages. Punitive damages can double or even quadruple the size of the claim the insurance company has against the plaintiff. If the plaintiff is unable to pay these damages, the insurance company can request a lien in court. If granted, the insurance company could prevent the plaintiff from selling or profiting off of certain assets, like their house, without first being notified and being entitled to the proceeds. The company would also be able to garnish the plaintiff's wages.
Criminal Consequences: In Maryland, and pretty much every state in the U.S., filing a fraudulent claim is a crime punishable criminally, administratively, or civilly.
Criminal Penalties: For presenting false insurance claims, the fine can be up to 3x the value of the claim or $10,000, whichever is more. The minimum fine is $500 and imprisonment can be sentenced up to 15 years for a felony or 18 months for a misdemeanor. For deliberately causing a car accident, the penalty cannot exceed 15 years of imprisonment for a felony or 18 months for a misdemeanor and a $10,000 fine.
Administrative Penalties: A penalty of up to $25,000 for each act of insurance fraud is possible. The exact penalty will vary based on circumstances, number of violations, degree of guilt, and prior offenses. Restitution can be ordered to pay back the insurer or self-insured employer any insurance benefits paid for the fraudulent claim.
Civil Penalties: An insurance company can also independently seek to recover any wrongfully paid out benefits in civil court. If administrative penalties aren't paid, the Maryland Insurance Commissioner can bring a civil action to collect the judgment, and collect interest, court costs, and reasonable attorney's fees.
*Note: In Maryland, felonies and misdemeanors with prison sentences can typically be prosecuted at any time, therefore a crime you committed many years ago can come back to haunt you.
Ultimately, filing a fraudulent claim is not worth the price you'll pay when you get caught. However, if you have a true personal injury claim, the attorneys at Ferrante & Dill, LLC would be honored to represent you. In the past, Ferrante & Dill, LLC partner and Personal Injury attorney Nick Ferrante has worked for many of the major insurance companies and represented well known national retailers and trucking companies defending these types of claims.  But now he works exclusively on the side of people who are injured – helping them to get compensated for the losses they have incurred as a result of someone else's negligence. If you have been in an auto accident, please give him a call or email him today at (410) 535-6100 or info@ferrantedill.com.