Motorcycle Accident Attorney
Motorcycle Accident Lawyer in Calvert County
When you've been hit on a motorcycle by another motor vehicle, you could face dire consequences. Besides a helmet, motorcyclists have little protection and accidents can be fatal or result in life-altering injuries. The healing process can take months or even years.
The accident's aftermath is daunting mentally, physically, and financially. In these situations, you need an experienced and trusted motorcycle accident lawyer on your side. 
At Ferrante & Dill, we've helped countless clients seek justice and fight for compensation. You need an expert team at your side when fighting for compensation, especially when steep medical bills and peace of mind are on the line.
Don't endure a motorcycle accident case without the right team. If you need a knowledgeable and compassionate motorcycle accident lawyer in Calvert County, Ferrante and Dill, LLC is here to fight for your rights. Our team will help you navigate the complicated legal process by explaining your rights and helping you fight for compensation.
When You Need a Motorcycle Accident Lawyer
Drivers of motor vehicles, especially larger ones, don't always see motorcyclists on the road, leading to most accidents. When this happens due to carelessness, neglect, or irresponsibility behind the wheel, the driver can be held accountable. With a motorcycle accident attorney, you can discover what options lie ahead and devise a plan.
In many cases, victims face significant roadblocks during their case preventing them from fighting for adequate compensation and increasing their burden during recovery. This is especially true when the victim suffers from severe injuries.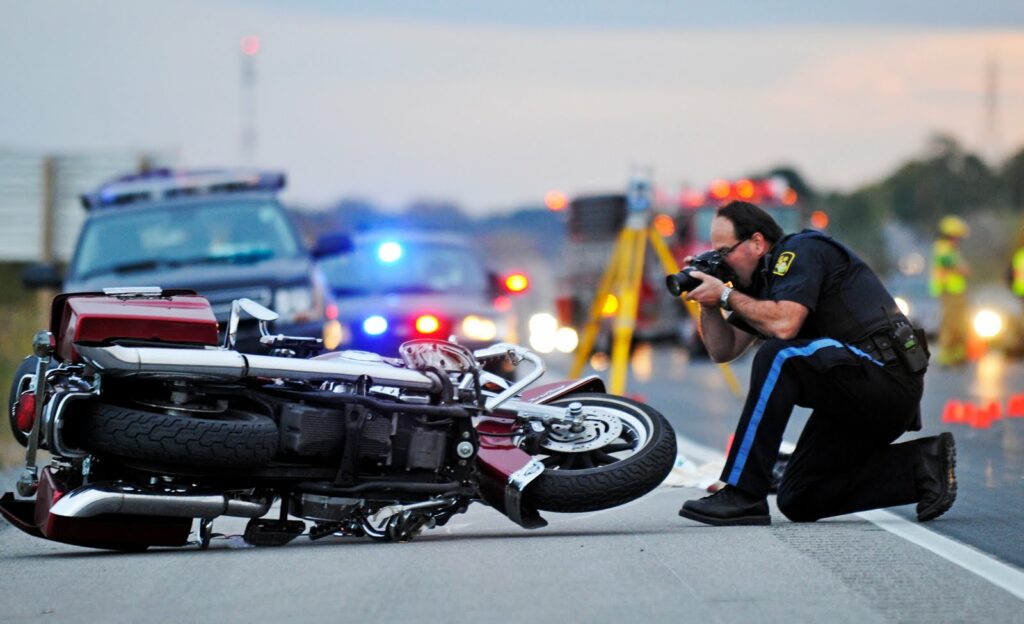 Unfortunately, many insurance companies try to point fault at the motorcyclist for driving erratically or disobeying the laws of the road. But these companies are looking to profit and try to avoid paying in full.
In these cases, refrain from giving them any information, and consult with an attorney first to ensure you have all your ducks in a row. The most significant mistake victims make is acting too hastily in shock and saying something that prevents them from building a proper case.
Navigating the Aftermath with a Motorcycle Accident Lawyer
First, you'll need to record all evidence and damage. It's important to keep a written record as soon as possible after the accident, so you don't forget vital information. Share this information with your lawyer, and we'll take it from there, allowing you to rest, recover, and recuperate while we fight for compensation.
Motorcycle accident victims can attempt to fight for different types of damages, including compensation for:
In the event of a fatal motorcycle accident, our lawyers can assist grieving family members with wrongful death claims. We aim to bring justice to grieving families by holding the responsible party liable and fighting for proper compensation.
Perhaps the biggest hurdle we tackle for clients is research as we launch a full investigation into the accident. We analyze who can be liable or held at fault by utilizing witnesses testimonies, private investigators, accident reconstructionists, and every other tool at our disposal to attempt to bring you a win in the courtroom. 
Any accident can leave victims devastated. We understand the unique stress of taking these cases to trial, which is why we work hard to fight for your compensation while you focus on recovering.
Common Causes of Motorcycle Accidents
As previously mentioned, motorcyclists have nowhere near the same level of protection as their car, truck, and bus counterparts. These exposed drivers can sustain severe damage from larger vehicles. Drivers can prevent these types of accidents by driving responsibly and sharing the road.
Some common causes for accidents that we handle include:
Contact a Trusted Motorcycle Accident Lawyer in Calvert County
If you or a loved one needs a motorcycle accident lawyer, do not hesitate to call us immediately — the longer you wait, the more complicated the process may become. We offer free initial consultations so you can get your bearings straight and decide whether to proceed with a potential case.
Call Ferrante & Dill at (410) 535-6100 to book your consultation. We take the time to listen to your case and help you understand your rights so you can have peace of mind knowing that we are on your side