Medicare and Medicaid 101: Your Medicare Card Explained What is a Medicare Card?
Source: Medicare.gov
It's sort of like your insurance card that has your basic information as well as provider and plan information. Soon after enrolling in Medicare, you'll receive a red, white and blue Medicare card in the mail. If you're automatically enrolled in Medicare, you'll receive your card three months before your 65th birthday or within your 25th month of receiving disability benefits. Your Medicare card carries a host of important information: including whether you have Part A (Hospital Insurance) or Part B (Medical Insurance) or both, and the date that your coverage starts. Like your insurance provider card, it is important to carry your Medicare Card with you at all times, in the event that you require any kind of medical attention (i.e. hospital and doctor visits, both planned and unplanned).
Brace Yourselves, New Medicare Cards are Coming…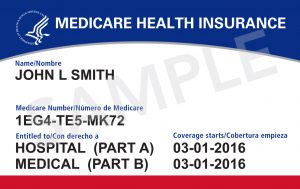 Source: Medicare.gov
Between April 2018 and April 2019, Medicare will begin mailing out new Medicare cards. Your new Medicare card will have a new Identification number that is specific to you; it will no longer be your Social Security Number, providing you extra security from identity theft. There are a few things you should know regarding your new Medicare card:
You do not need to take any action in order to receive your new card;
Your new card will not affect your Medicare benefits in any way;
Medicare will never ask you for personal or identifying information to get your new Medicare card. If you receive any communication requesting such information, let Medicare know by calling 1-800-MEDICARE (1-800-633-4227);
There is no charge for your new card.
It is important to remain vigilant and be aware of any scams trying to get your current Medicare number or any other personal/private information by contacting you either directly or through mailings. Scam artists can be brazen; often impersonating Medicare representatives and using any of the following tactics to get critical information from you:
Asking you to confirm your Medicare or Social Security Number in order to send your new card;
Telling you there's a charge for your new card and asking to verify payment information;
Threatening to cancel your benefits if you do not comply and provide the information they're requesting.
Remember: if anyone contacts you through any means requesting any of the information above, disregard them and call Medicare immediately at 1-800-MEDICARE (1-800-633-4227).
What does my Medicare ID mean?
Currently, the numbers in your Medicare ID is your 9-digit Social Security Number. But, beginning in 2018, the numbers in your new Medicare ID will be uniquely generated and specific to you, not your SSN.
What's not changing in 2018 is the letter that follows your ID number. This letter is assigned by the Social Security Administration and is a code used to identify the category you qualify under to claim benefits. In all, there are 12 letters that may follow the numerical part of your Medicare ID. This letter code can be followed by an additional numerical suffix (i.e. B1) depending on your circumstances. For a full list of the alpha-numeric code that follows your Medicare ID number, click here.
Replacing or Updating your Medicare Card
If your Medicare card is lost or stolen, you can request a new one from the Social Security Administration.
Medicare uses the name and address on file with the Social Security Administration to send you your new cards and other important information. To change this information, visit your online my Social Security account.
Have Questions? Ask Us!
The rules and guidelines for Medicare and Medicaid are complicated and can be a lot to handle on your own. Many people who do not seek expert help end up making one of two big mistakes: they either spend more than they should; or they misinterpret the rules and subject themselves to harsh penalties. Let the skilled and knowledgeable Estate Planning and Elder Law attorneys at Ferrante and Dill, LLC help you with all of your Medicare and Medicaid planning needs. Don't wait another minute, call or email us today! (410) 535-6100 or info@ferrantedill.com.
Disclaimer!
This blog post that is published by Ferrante & Dill is only available for informational purposes and should not be considered legal advice. By viewing these blog posts, the reader understands there is no attorney-client relationship between the blog publisher and the reader. The blog post should not be used as a substitute for legal advice from a licensed professional attorney, and we recommend readers to consult their own legal counsel on any specific legal questions concerning a specific situation.